Data Science
AI and the Org Chart: As Business Deploys AI, "Work Architecture" Need a Redesign

As editor of AI Trends, I am researching the impact of AI on how companies are organized to do work. I am interested in new job descriptions around data science, big data, machine learning, digital knowledge, AI interaction, natural language processing and others not mentioned here but that you might be involved in. I would like to describe your experience, what brought it about, what your organization is trying to achieve with AI. Please email me. I will respond and start the discussion, respecting all requirements of your organization for outside communication, and always with your permission for what gets published. My hope is to create a guide for AI and business professionals navigating this new and evolving field.]
Some 65% of children entering primary school today will have jobs that do not now exist, according to one estimate. To gain an understanding of what jobs are up and coming, and what skills are needed to succeed, LinkedIn studied data from five years to spot trends.
Among the key findings:
Machine learning engineers, data scientists and big data engineers were among the top emerging jobs, with companies in a wide range of industries seeking those skills.
Talent is scarce. Data Scientist roles have increases 650 percent since 2012, but currently in the US, 35,000 people are said to have data science skills. The supply of candidates for these roles cannot keep up with demand from the companies hiring.
Many of the emerging needed skills did not exist five years ago; many professionals are not confident that their current skill set will still be relevant in one to two years.
Software engineers are feeding into all the technology-related professions.
Here are some example strong growth titles from the LinkedIn study:
Machine Learning Engineer
Software Engineer
Research Assistant
Teaching Assistant
Data Scientist
System Engineer
Data Scientist
Research Assistant
Teaching Assistant
Software Engineer
Data Scientist
Business Analyst
Big Data Developer
Software Engineer
Hadoop Developer
System Engineer
Java Engineer
ETL Developer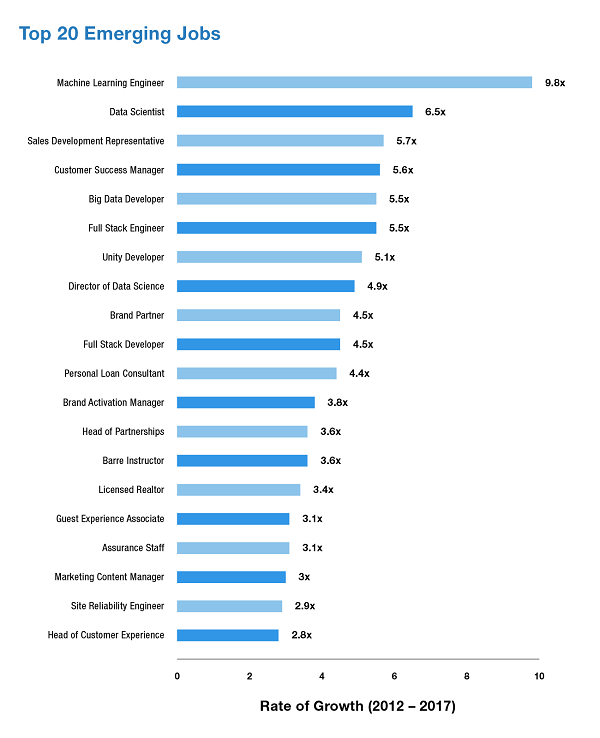 AI is Seen Adding More Jobs Than Lost
The emergence of AI in the organization was seen to be adding more jobs than those lost by attendees at the EmTech Digital Conference from Ernst & Young and MIT Technology Review held in the spring of 2018.
While many companies are striving to implement AI on projects, few have tied AI into the overall business strategy.  A basic notion is that AI will free people to do more interesting work.
Jeff Wong, EY Global Chief Innovation Officer, said in an article in MIT Technology Review,  "As businesses deploy AI strategies,  they're increasingly aware of how the roles, responsibilities and skills of their talent is changing.  With AI taking a leading role on tackling organizations' simple and repetitive tasks, the human workforce can focus more on complex work that ultimately provides a greater level of professional fulfilment to employees and a more efficient use of critical thinking power."
Asked if AI is being used currently in their organizations, most respondents said AI is being piloted in one or more areas but there was no overall enterprise AI strategy. The next cluster reported that AI is currently not a strategic priority.
Chris Mazzei, EY Chief Data & Analytics Officer and Global Innovation Technologies Leader, stated, "While we're seeing momentum in businesses deploying AI more strategically across the enterprise, its application is often fragmented across business functions, leaving much of the potential untapped."
When asked for the top three desired business outcomes from the application of AI, the answers were: to improve and/or develop new products and services; achieve cost efficiencies and streamlined business operations, and to accelerate decision-making.
Chris Mazzei added: "AI technologies have been proven to streamline operations and speed-up internal processes. However, businesses should think more holistically about the competitive advantages that can be reaped from thoughtful applications of AI in product and service development, sales enablement, enhancing customer experience, or capturing business intelligence that helps impact the bottom line."
The talent shortage is holding things back. "Despite AI's potential to drive transformational change, adoption continues to be hampered by a shortage of talent," stated Nigel Duffy, EY Global Innovation Artificial Intelligence Leader. "Businesses must invest in and create a culture of continuous learning that comprises skills programs, training sessions, and research partnerships to attract and retain leading AI practitioners."
Businesses are aware they need to diversify their AI talent pools to try to prevent bias in results.
Jeff Wong stated, "There is a correlation between the continued lack of diverse AI talent and the distortions being found in some machine-learning outcomes. To mitigate this, businesses need to look for a wide variety of talent to ensure a diversity of experience, and social and professional perspectives are integrated at the coding stage."
AI on the March, with Humans in the Loop.
The 2018 Global Human Capital Trends report from Deloitte Insights found that the influx of AI, robotics, and automation into the workplace has dramatically accelerated in the last year, and "uniquely human" skills and roles were found to be critically important. Skills seen to be in high demand in the future included complex problem-solving (63 percent), cognitive abilities (55 percent), and social skills (52 percent).
Reinforcing this view, a recent World Economic Forum study found that the top 10 skills for the next decade include essential human skills such as critical thinking, creativity, and people management.
To maximize the potential value of these new technologies today and minimize the potential adverse impacts on the workforce, organizations must put "humans in the loop" —reconstructing work, retraining people, and rearranging the organization. The greatest opportunity is not just to redesign jobs or automate routine work, but to fundamentally rethink "work architecture" to benefit organizations, teams, and individuals.
The Deloitte study found a "readiness gap" with 72 percent of respondents seeing AI as important and 31 percent reported being ready to address it.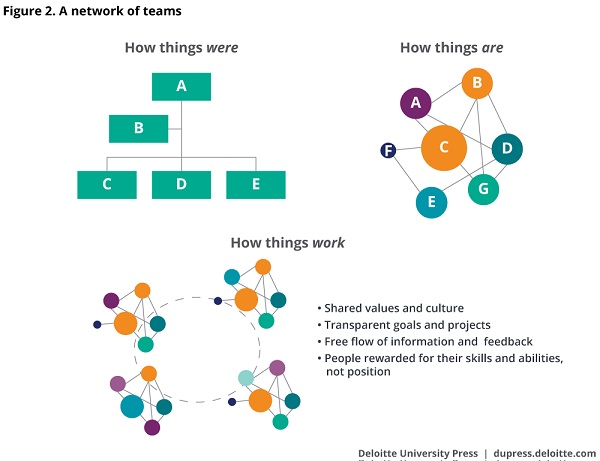 Leading companies are recognizing that the technologies are more effective when used to complement and not replace humans. Manufacturers including Airbus and Nissan are finding ways to use collaborative robots, or "co-bots," that work side by side with workers in factories.
An algorithm is only as effective as "the quantity and quality of the training data to get [it] going," stated Lukas Biewald, CEO of CrowdFlower, a startup that provides algorithm trainers. This realization has given rise to new jobs with titles such as "bot trainer," "bot farmer," and "bot curator."
Tell the Humans They are Not Fired
As AI technology is introduced and deployed, the workforce needs new skills to be able to exploit the new technologies. "Work architecture" needs to be redesigned. Work needs to be decomposed into it fundamental components  – for example production, problem-solving, communication, supervision – and ways that new combinations of humans and technology working together need to be defined.
Despite this recognition, the Deloitte study found companies are slow to develop the needed human skills of the future. Some 49 percent of respondents said they do not have a plan to cultivate them. "We see this as an urgent human capital challenge requiring top executive support to transform organizational structures, cultures, career options and performance management practices," the report stated.
Further, "Absent a thoughtful approach, organizations may not only risk failing to identify the skills they need to take effective advantage of technology, but also suffer damage to their employee and corporate brand due to perceptions around (real or supposed) workforce reductions."
The integration of early AI tools is also causing organizations to become more collaborative and team-oriented, to move away from traditional top-down hierarchical structures, according to an account in Fast Company..
"To integrate AI, you have to have an internal team of expert product people and engineers that know its application and are working very closely with the frontline teams that are actually delivering services," stated Ian Crosby, co founder and CEO of Bench, a digital bookkeeping provider. "When we are working AI into our frontline service, we don't go away to a dark room and come back after a year with our masterpiece. We work with our frontline bookkeepers day in, day out."
Org Charts Moving Away from Top-Down, Towards Teams
The Deloitte survey also found organizations are moving away from a top-down structure and toward multidisciplinary teams. Some 32% of respondents said they are redesigning their organizations to be more team-centric, optimizing them for adaptability and learning in preparation for technological disruption.
Finding a balanced team structure, however, doesn't happen overnight, Crosby suggested. In large organizations, "It's better to start with a small team first, and let them evolve and scale up, rather than try to introduce the whole company all at once."
Crosby adds that Bench's eagerness to integrate new technologies also determines the skills the company seeks in recruiting and hiring. Beyond checking the boxes of the job's technical requirements, he says the company looks for candidates that are ready to adapt to the changes that are coming.
"When you're working with AI, you're building things that nobody has ever built before, and nobody knows how that will look yet," he said. "If they're not open to being completely wrong, and having the humility to say they were wrong, we need to reevaluate."
Where to Start
When building something never built before, where does one start? "This is one of those instances where getting started is more important than where to start," suggests Trent Weier, a senior director with SAP who works with customers on projects, writing in Digitalist Magazine from SAP. "Building AI capabilities like machine learning is an evolutionary process and lends itself to short, focused discovery, design, prototyping, and delivery cycles."
SAP has found early use case experience for AI and machine learning have seen benefits in process optimization, demand planning and forecast applications. The forecast algorithm, for example, evaluates errors for each cycle and recommends or automatically adapts the forecasting method to produce the best result.
For inventory applications, machine learning can automatically adjust optimal safety stock values and inventory parameters at each echelon of the supply chain. Multi-echelon inventory optimization (MEIO) strives to maintain the optimal balance of components, work in process, and finished goods inventory.
AI Impact on Daily Work Environment
AI stands to change the daily work environment, suggests a recent article in MIT Sloan Management Review.  "What people don't talk about is the integration problem. Even if you can develop the system to do very focused, individual tasks for what people are doing today, as long as you can't entirely remove the person from the process, you have a new problem that arises — which is coordinating the work of, even communication between, people and these AI systems," stated Julie Shah, an associate professor of aeronautics at MIT. "And that interaction problem is still a very difficult problem for us, and it's currently unsolved."
The article is based on findings from the 2017 AI Global Executive Study and Research project conducted at MIT in partnership with Boston Consulting Group. The partners surveyed 3,000 business executives in the spring of 2017 from 112 countries and 21 industries, from organizations of various sizes, two-thirds of them outside the US.
While organizing for AI broadly, the enterprise will place a premium on soft skills and new forms of collaboration, including project teams composed of humans and machines.
Companies deploying AI are exploring many models of organization, with the Pioneers evenly split among centralized, distributed and hybrid organization models. The report suggests a hybrid model may make the most sense for large organizations, because companies need AI resources both centrally and locally. TIAA, for example, has an analytics center of excellence and a number of decentralized groups.
"The center of excellence is not intended to be the group that will provide all analytics for the entire organization. It provides expertise, guidance and direction to other internal teams that are working to deploy AI and analytics," said J.D. Elliott, director of enterprise data management for TIAA, a Fortune 100 financial services organization with nearly $1 trillion of assets under management.
The message is not having all the answers is not a reason to hold back from where AI will take your organization.
— By John Desmond, AI Trends Editor, jd@aiworld.com
Source link